Why I became A Network Marketer…
My life has been full of excitement and fun.  When I was young,  I had no idea what I "wanted to be" when I grew up but I knew that  it was going to be a blast whatever it was!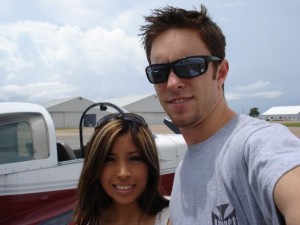 Let me start by giving you a little background on myself…
In the 6th grade I joined the school band. I played the saxophone,  which I thought was pretty much the coolest instrument they offered besides the drums (but I had no rhythm so I opted for the sax!).
I went on to be "first chair"  throughout Jr. High and High School.  My parents enjoyed the fact that I could play the sax pretty well and even bought me a $2,800 hand built Alto Saxophone from Paris,  France!
I graduated high school in 2002 and decided I wanted to pursue a career in music.  I received offers from a few schools in Texas but ended up going to my parent's alma mater in Oklahoma City,  Oklahoma.
For the first two years I was a "music major".  I'm not going to lie about it, it was horrible.  I enjoyed playing my saxophone and actually was in about 8 different bands but majoring in music was not what I had hoped for.
One day, a friend of mine invited me to come out to the local airport and go flying with him. I was in shock!
I had no idea you could even do that.
Unfortunately,  the weather got bad and we didn't get to go but the seed was planted at this point.
Over the next few days we talked over lunch and I learned he was majoring in "business aviation".  I had no idea our school even offered this as a major.
Long story short…I was hooked!
I changed majors,  learned about the program,  and took my first flying lesson a few weeks later.
I graduated in 2006 with a bachelor's degree in Business Aviation. Because of my late start in the 4 year program I didn't actually finish all of my flight training until 2008.
This is a video of me landing at Hobby Airport in Houston,  Tx. My wife Katherine is filming from the back seat.
At this point I had spent well over $42,000 in flight training,  ground school,  books,  two head sets,  and countless hours of studying.
In the process,  I had moved back to Texas,  married my beautiful wife Katherine,  and started working for an engineering company near Galveston,  Texas.
The next step in becoming a commercial airline pilot was to build my hours as a flight instructor.
This is where my career in aviation abruptly came to a halt.
My parents introduced me to network marketing when I was just a small boy and thats when I knew I could possible become a professional network marketer.  They never had any "long-term" success but I knew about the industry and understood people could make a great income from it.
In 2006 I had joined my very first network marketing company.
It was now 2008 and I hadn't made a dime…many of you reading this can probably relate!
But I was not defeated or disturbed by this and that's when I began to question my decision to be an airline pilot.
It was not an easy decision at the time,  but looking back I'm so thankful I decided NOT to pursue a career in aviation.
Some of you are probably wondering "why"?
The truth is  commercial airline pilots make great money. They drive nice cars and have big beautiful houses overlooking the 17th green at the local country club community.
I knew all of this but I also knew about the lifestyles of the "elite" network marketers aka the "top income earners" or "3% er's".
Deep down inside I knew I could become successful in ANYTHING. It wasn't a matter of which lifestyle I wanted,  but rather how I would get there.
I decided to pursue a career as a Professional Network Marketer and the rest is history…
In  part 2 of this story I'll reveal a secret, that I didn't even know about until recently,  that explains why I made the right decision.
Stay tuned …