Mary Kay Business Success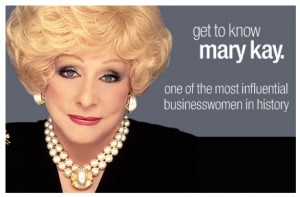 The Mary Kay business opportunity has been around for a while now and has had a lot of success. Their product line is loved by millions of people around the world and a lot of their revenue comes from repeat customers which is a recipe for consistent growth. In 2010,  the company reported over 2, 000, 000 Mary Kay business owners who generated a combined $2.5 billion dollars in revenue.  I don't think there is any doubt you can make a lot of money with the Mary Kay business.
Marketing Secrets –  New vs. Old
If you already joined the Mary Kay business opportunity or maybe you're thinking about joining it's crucial that you have a marketing strategy to follow if you plan on making money. The products are great,  but they won't sell themselves so you need to learn how to become an effective marketer. So many people join a network marketing or mlm company because they get excited about the products or compensation plan and all the potential success that one can have. Unfortunately,  people get started with a business and never understand that it takes work and smart marketing to take advantage of the wonderful aspects of network marketing (compensation plan,  luxury vacations,  fancy cars etc.). Without marketing,  none of these things are possible.
Marketing doesn't have to be hard but most people struggle with it because they don't know what they are doing. Unfortunately,  most Mary Kay business owners never reach the level of success they desire because of they lack the knowledge and skill required to be an effective marketer.
You have two options when it comes to marketing your Mary Kay business: old school or new school.  The old school way of marketing involves you to be the aggressor and go out and be the typical salesman or saleswoman. I think of a door-to-door sales person or used car salesman when I think of old school marketing. In this economy,  no one wants to be sold on anything they can't afford or don't need. The facts are most people you talk to will not buy the Mary Kay products so this strategy is not exactly ideal. I don't know about you,  but I hated talking to friends and family about my business in the past. Most of them weren't interested in what I had to say and once I exhausted my list of personal contacts I had no one else to talk to.
The new school marketing approach takes a different stance altogether. Instead of being on the offense,  trying to promote your business to others,  the new school approach is about attracting others to you and your business. This strategy has been coined the name  "attraction marketing" and basically it's a marketing strategy that when properly used will generate an endless supply of fresh leads for your Mary Kay business or any other opportunity you decide to promote.
Here are a few examples of each:
Old School Marketing
TV Commercials
Radio Commercials
Bilboard Ads
Newspaper Ads
Flyers
Online Ads
New School Marketing (Attraction Marketing)
Online Articles
Videos
Social Media
Blogging
You may notice that the old school methods are exactly that,  old school! In recent years you probably have noticed a shift of marketing dollars going from traditional newspaper, radio and print ads to online marketing like pay per click ads and website development etc. Bottom line,  the old school marketing strategies are becoming less and less effective.
Mary Kay Business In order to build a successful Mary Kay business you must learn and use the new school attraction marketing methods if you want to generate leads and sales. At the end of the day,  the person who can talk to the most people wins. It's a numbers game. Figure out how to increase the amount of people you expose to your Mary Kay business and you will increase the amount of sales and recruits.
The concept of having a marketing strategy in place that produces an endless supply of leads is a no brainer. The problem is most do not know how to successfully set up such a system.
Learning how to combine  specific marketing philosophies and online marketing tools is the key to generating 20-100 leads a day with attraction marketing.
If you want to see what the experts are doing then I want to invite you to a simple presentation that will explain the details. This information is free so if you're serious about making money and building a large successful Mary Kay business you will take the time and watch this free attraction marketing presentation.
To Your Prosperity,

PS. Taking your business to the next level starts with a good marketing strategy.