So you want to know how to get followers on twitter?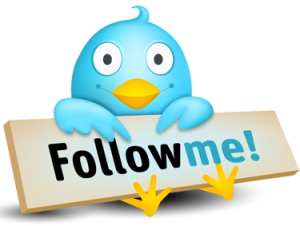 If you're reading this article you probably want to learn how to get followers on Twitter. No matter if your brand new to Twitter or have been tweeting for years this article will help you get more followers on Twitter!
Most people don't understand how Twitter works exactly but I'm going to give you a simple game plan to follow that will make marketing on Twitter painless.  I've come up with 5 easy steps that anyone can do right now to increase their Twitter followers.
IMPORTANT DISCLAIMER
I want to be completely up front with you. If your only purpose is to spam people without creating real value then I don't want you to read this article.  Marketing on Twitter can be extremely effective if done correctly,  but the key is to do it without being spamy. No one wants to be spammed so its important to tweet things that will benefit your followers.
How to get followers on Twitter step-by-step…
Step 1
Customize your profile
Twitter has over 250 million daily users so it's important to find a way to stand out in the crowd. The easiest way to do this is to customize your profile design. You can change the background image along with theme colors to help with this. Also,  it's crucial that you upload an eye-catching profile picture.
I recommend looking at other profiles on Twitter to help give you an idea about what looks good and stands out. Be creative and have fun with this!
*Some people change their profile picture way too often. This is a BIG mistake because it's like hitting the "reset" button. You want to be remembered and brand yourself to your followers. Once people start reading your tweets,  you want them to recognize your picture so it's not good to change it.
Step 2
Follow people who follow you
You may think that following people who are already following you is pointless. Let me explain why this is a very important step you don't want to skip.
If someone is following you, they are interested in you and want to read your tweets. However,  if you are not following them back,  they may decide to unfollow you.  In essence,  when you follow someone who is following you,  it's like saying "thank you for following me". This builds report with your followers and ensures they won't unfollow you in the future.
Step 3
Follow people you wish to market to
Most people who want to learn how to get followers on Twitter are not familiar with this strategy.  Simply following others on Twitter can actually get you more followers.
Don't just start following people at random. Ask yourself who you want following you? Are you marketing a specific product or business opportunity? Find people who are potential customers and follow them.  If you plan on marketing a skin care product you should follow women and not men. If you are marketing a business opportunity,  you should follow people who are entrepreneurs or business minded people.
The best way to find people you want to follow is find someone they are following who has something to do with what you are offereing. Lets use our skin care product as an example. Your target audience would be women who are care about their skin. You might search for skin care companies on Twitter like Neutrogena or Clinique.  When you see their profiles you can actually see who is following them. These are people you want to follow because they may follow you back.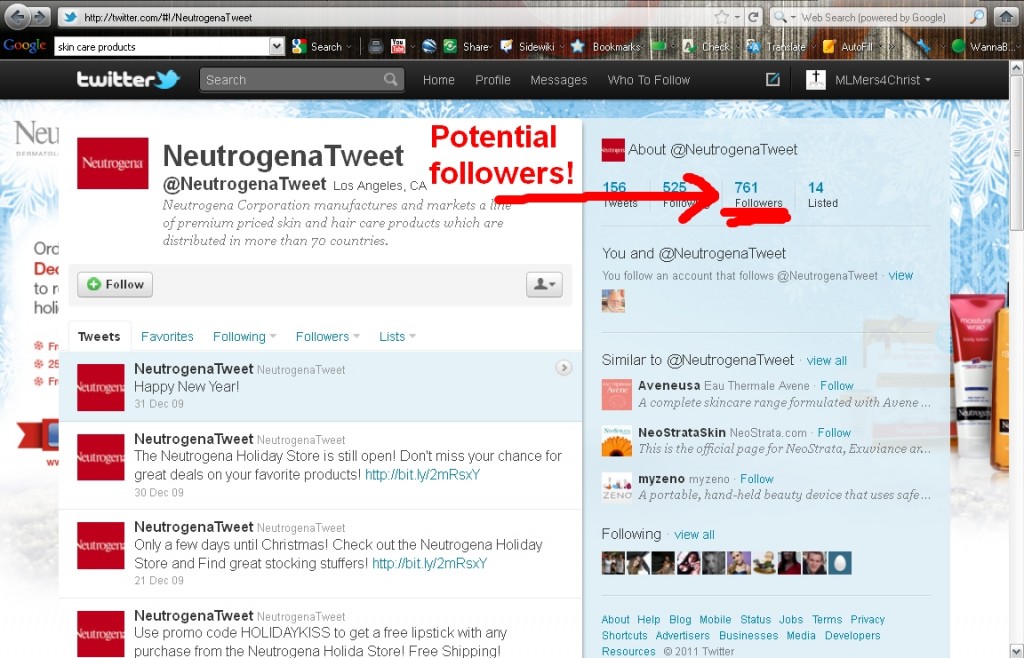 Twitter is a social networking site. People are more inclined to follow you if you follow them first. It's human nature for someone to follow you back so use this to your advantage!
Step 4
Unfollow people who don't follow you
When you're first getting started or if you're following less than 2,000 people then you can skip this step. However,  eventually you will need to come back to this so I'm going to go ahead and share it with you now.
Twitter has a limit on the amount of people you can follow. Currently this is set at 2,000 or 110% of your followers.  This means that if you have 2,500 followers the most you can follow would be 2,750 (2,500 + 250).  This is a critical rule to remember if you want to learn "how to get followers on Twitter."
So how do you know if someone is following you or not? There are 2 third-party tools I use to help determine this:  Friendorfollow and JustUnfollow are the best when it comes to determining who is not following you as well as some other cool features that I won't discuss at this time.
Step 5
Be consistent and have patience
"Rome was not built in a day" and neither is your list of followers on Twitter.  The key to getting more followers on Twitter is to be consistent and have patience.
Here are a few things to do on a daily basis:
1)      Post 5-10 tweets (make sure at least 2 are valuable,  the others can be random things that you feel your followers wouldn't mind knowing).
2)      Unfollow 30-50 people who are not following you.
3)      Follow 30-50 people who you want to follow you back.
4)      Follow anyone who is following you that you have not yet followed back.
If you do these 4 things on a daily basis you will be well on your way to thousands of followers.
I hope I answered your question of How to get followers on Twitter. If you found this information useful please retweet it!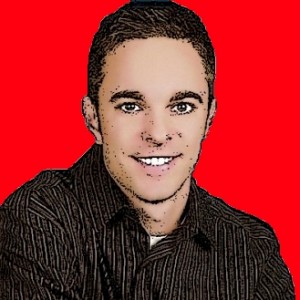 To Your Success,
Clint Schubert
PS. I believe Twitter is one of the best ways for you to market online. If you follow these 5 simple steps I promise you will become a Twitter marketing expert! Make sure you follow me on Twitter to get my tweets!